Sargon (Sharruken) of Akkadia (Sharek , Salitis) م < -2350
From Rodovid AR
الشّخص:175108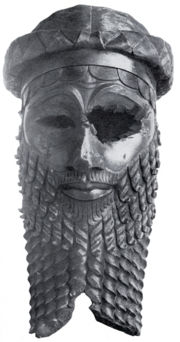 الأحداث
< -2350 الميلاد: Azupiranu (Arzawa), Land of Elam, Upper Mesopotamia
ولادة الطفل: ♂ w Manishtu ? (of Akkadia) [House of Sargon]
ولادة الطفل: ♀ Enheduanna ? (of Akkadia) [House of Sargon]
ولادة الطفل: ♂ Abaish-takal of Akkadia [House of Sargon]
ولادة الطفل: ♂ w Rimush ? (of Akkadia) [House of Sargon]
السكن: Kish, Upper Mesopotamia
أخرى: Rite of Nammu - The rite of Nammu is a consecration ceremony
-2334 ? -2279 اللقب المميّز: King of Akkadia
-2300? ولادة الطفل: ♂ Ibarum [House of Sargon] م -2300?
ملاحظات
Not to be confused with Sargon I ? (Sharru-ken, Salitis) (Asher, ?) or Sargon II (Sharru-kinu) ? (Šarru-kên) (Aseraph, ?)
Sargon's inscriptions report that ships from Magan, Meluhha, and Dilmun, among other places, rode at anchor in his capital of Agade. The location of Magan is not known with certainty but the names of its king was In-Susinak Shushan (Shemite, ?), and it was referred to in Sumerian cuneiform texts of around 2300 BCقالب:Ref! as a source of copper and diorite for Mesopotamia. The land of Gal-Mesedi has been identified as Egypt and its king was Kak-siwe-Tempti, probably Seheteptawy ? (Kak-siwe-Teti) (6th Dynasty - Egypt, ?).
The location of Meluhha is debated. Some scholars maintain that Meluhha is derived from earlier Sumerian documents with the alternative value "Me-lah-ha", which they identify with the Dravidian Met-akam "high abode/country". They further claim that Meluhha is the origin of the Sanskrit mleccha meaning "barbarian, foreigner". The word is also similar to Malahha (Urdu: ملاح ) word for sailor in Sindhi and Urdu languages.
Dilmun, is described as "the place where the sun rises" and "the Land of the Living", is the scene of some versions of the Sumerian creation mythقالب:Ref!, and the place where the deified Sumerian hero of the flood, Ziusudra (Utnapishtim), was taken by the gods to live forever.
Autobiography of Sargon
My mother was a high priestessقالب:Ref!, my father I knew not. The brothers of my father loved the hills. My city is Azupiranu, which is situated on the banks of the Euphrates. My high priestess mother conceived me, in secret she bore me. She set me in a basket of rushes, with bitumen she sealed my lid. She cast me into the river which rose over me. The river bore me up and carried me to Akki, the drawer of water. Akki, the drawer of water, took me as his son and reared me. Akki, the drawer of water, appointed me as his gardener. While I was a gardener, Ishtar granted me her love, and for four and ... years I exercised kingship.
المصادر
من الأجداد إلى الأحفاد
الأجداد

الأجداد

الأولياء

الأولياء

== 3 ==

== 3 ==

الأطفال

الأطفال

الأحفاد

الأحفاد